As from April 2008, is available, care of the best international book-stores, this new book dedicated to the Panerai's history...



- Panerai. The History -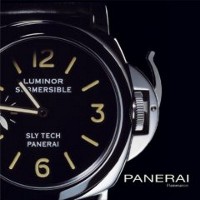 written by S. De Burton-G. Negretti, Flammarion Ed. (Paris-F) and printed by Zanardi (Padua-I)

(Format 32 x 32 cm, 192 pages, english and italian language)
ISBN Code: 978-2-0803-0541-1
Available in the best international book-stores at 175.00 US Dollars=125.00 Euro*
* The book is available also on-line, both on Amazon.com (Books Category-Usa) and both on Amazon.co.uk, at about 125.00 US Dollars=90.00 Euro, shipping charges and any custom duties (i. e., from Usa to Italy, by Amazon-Usa, are about 12.50 US Dollars=9.00 Euro...) included: in every case with an interesting saving!
Note of the Club Panerai: The book, very nice and interesting, has also a correct mix of photos and technical sheets, both historics and both actuals, so we suggest it to all the passionates.
For more info, see the Official Press Info, published in the Panerai's official site and our page Biblio.
---