Viareggio, 1 - 4 May 2003
International Artiglio Award, II Edition 2003
(Page 2 of 2)
(See also the complete report "Artiglio" by Volker Wiegmann)

The collection of Francesco Ferretti
In the centre-up, the 1937 first prototype of the Radiomir (See the cert. No. 00004) with, on the right, the only one 1960's aluminium prototype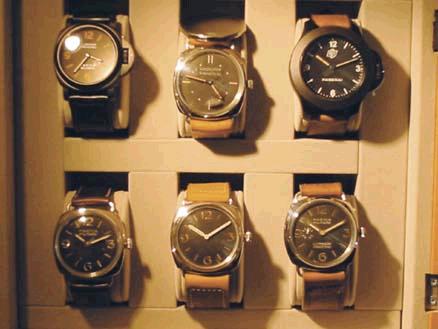 In the centre, 3 Luminor Marina of the new collection 2003 "F" (The model with the white dial is the no. F 0001/1500!)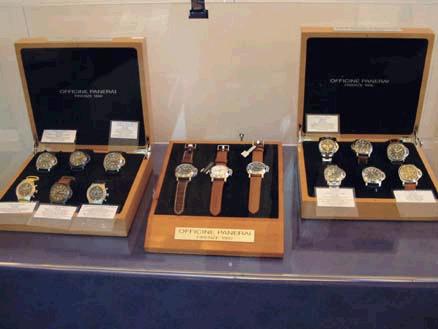 Other objects on exhibition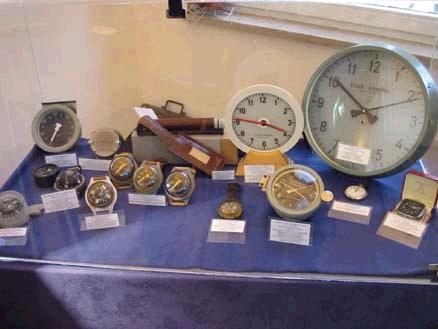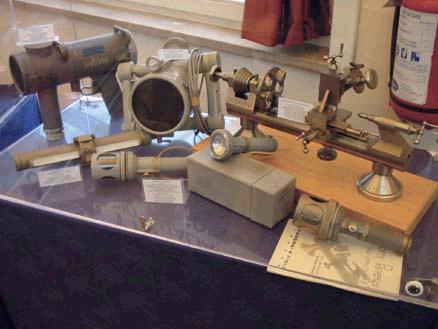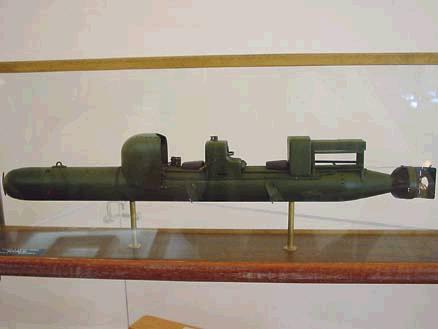 Some watches Vintage on exhibition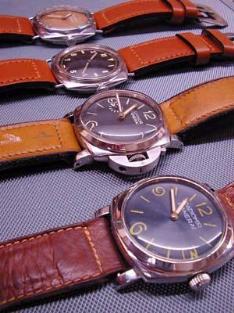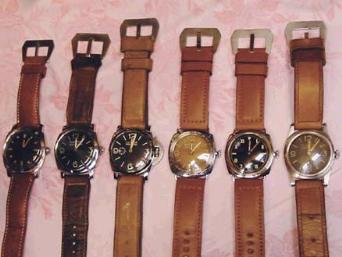 The "triptych" of Fabio Castellani (See the cert. No. 00096/M.Eq.)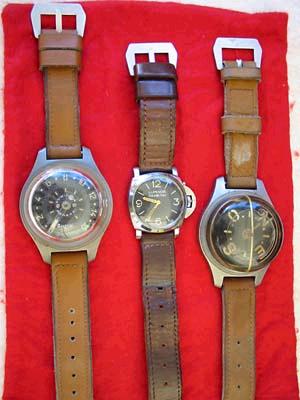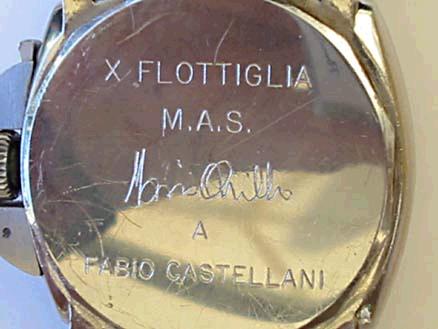 The collection of Luciano Rinaldi
Its gift to the Club Panerai and the Scuba Divers Society -Teseo Tesei-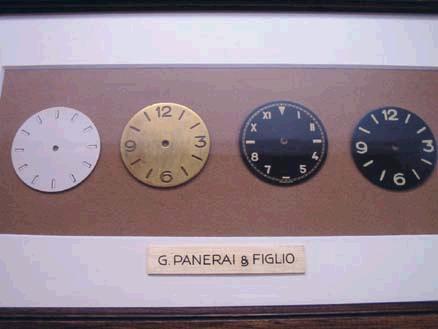 In the foreground the (english) cutting net big pincers used from the italian commandos for violating just the english harbours of the Mediterranean...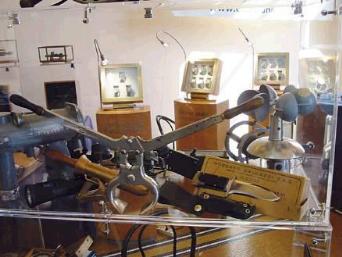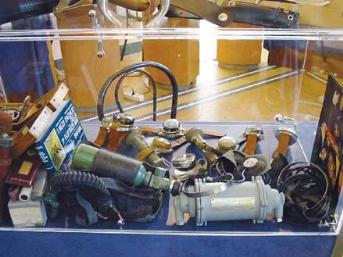 The prototype of the Radiomir, see the book -Panerai Historia- page 41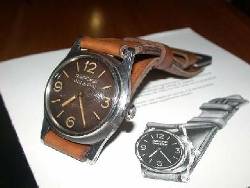 The complete little-case with the Panerai's production until the 1997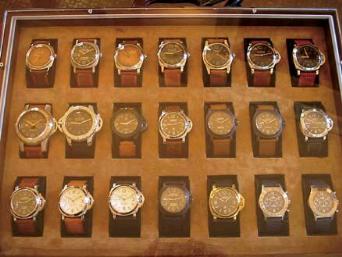 In the foreground, some watches held in the little-case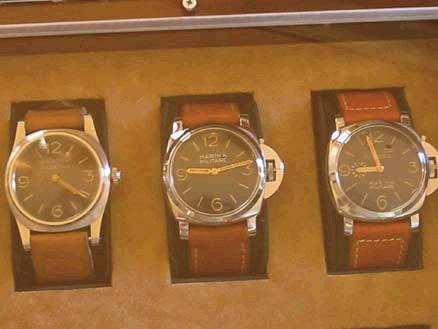 On the left, the -Big II ed.- "Egyptian" Radiomir with, on the right, one of the 2 prototypes of the "Israeli" Luminor with the twim lever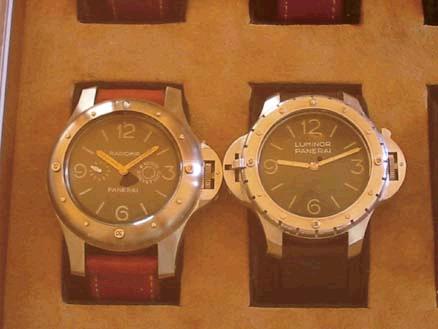 On the left, one of the 5 Luminor Slytech "Black Seal" with, on the right, the only one prototype of the Pvd yellow gold Luminor
(The -father- of the actual Luminor Marina yellow pinked gold aut. 44mm, Pam 140...)


On the left, the Luminor Marina with, on the right, the only one prototype of the Luminor Sub with the rotating bezel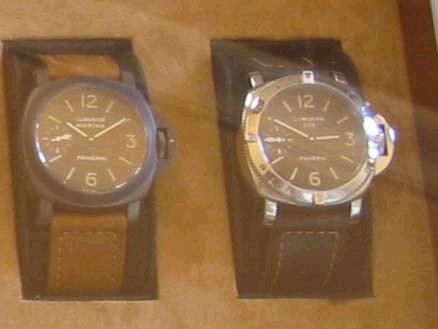 The display of Piero Lapiana with some of the watches exhibited, the official III Meeting t-shirt (see pag. 1) by Frank Raiss and Volker Wiegmann and the official Club Panerai baseball-cap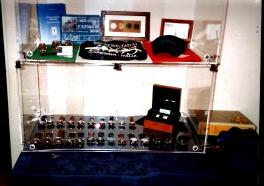 The collection of Valter Cucchi (See the cert. No. 00250, justified away from...)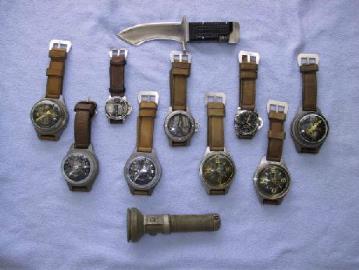 The signatures of the sharers to the III Meeting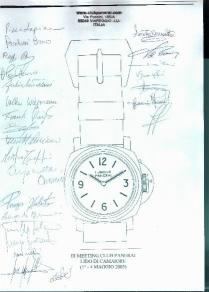 Page 2. The End
Page 1. Back

Piero Lapiana, Ricciardo Canova and Marco Mancini thank Maryline De Cesare, International Public Relations, Elena Pasotti, Italy Sales Direction, O. Panerai-Milan and Simona Di Stefano, Boutique O. Panerai-Portofino (Ge), respectively for the items sent, for her visit during the event and for her participation at the dinner and, moreover, the members of the Club Panerai Francesco Ferretti, official dealer O. Panerai in Montecatini Terme (Pt), Luciano Rinaldi, Samuele Rinaldi, Fabio Castellani, Omeris Arpesella, Mario Paci, Marcello Vivoli, Dino Zei, Sauro Sodini, Bernardo Beltran, Frank Raiss, Volker Wiegmann and Dirk Grandry for their participation.
Viareggio, May 5th 2003.
---